I saw this sign in a neighbors' yard.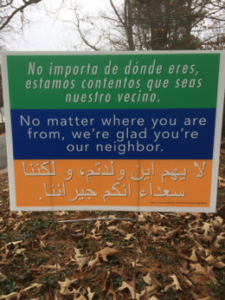 I felt uplifted. I am looking into getting more signs, for my yard and for others who might be interested. Cost will be about $8. Let me know if you are interested.
For more info:
https://www.facebook.com/welcomeyourneighbors/
Links to the .pdf for printing:
https://immanuelmennonite.wordpress.com/
I also plan to order Black Lives Matter yard signs that are available from SURJ.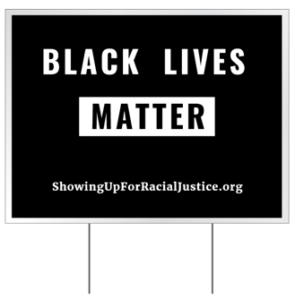 Showing Up for Racial Justice (SURJ) is a national network of groups and individuals organizing White people for racial justice. Cost is about $9 (18″ x 24″ with metal H-stake.)
http://www.showingupforracialjustice.org/surj_yard_sign_faq
If you would like to order one or both yard signs, please contact Ted Siedlecki at  tedsiedlecki-at-gmail.com.