For infants and toddlers (birth to three-year-olds) we provide nursery care organized around a concept of peaceful play in which childcare providers help children explore their interests with a variety of engaging toys, outdoor play, singing, and storytelling.  They meet in the Community Room.
---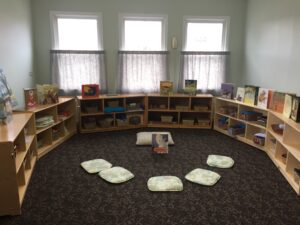 For our children aged four to eight-years-old we provide a storytelling curriculum called Playing in the Light. Storytellers guide children in learning about Quaker stories and children's literature that connect to the Quaker Testimonies of Simplicity, Peace, Integrity, Community, Equality and Stewardship. Children learn to ask their own questions about these stories and express their learning through arts, crafts, and dramatic play. They meet in the Annex.
---
Our program for Junior Young Friends (ages nine to 13-years-old) is student-centered and incorporates project based learning. Students form a learning community that explores questions about Quaker testimonies, the history of Quakers, the Bible, world religions, and current events, among others. In all themes, our Junior Young Friends apply their learning to the real world through art, activism, and living their lives in the light even when the world seems dark around them. Our Junior Young Friends also regularly contribute to meeting events and service learning such as potluck Sundays and serving the homeless in the community. They meet in the Parlor.
---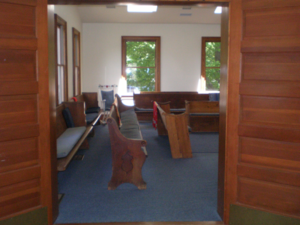 Finally, our Young Friends (ages 14 to 18) may participate in Meeting for Worship or help to guide the learning of younger children in First Day School.
---
The youth gather for First Day (Sunday) School for the first 45 minutes of later worship. Then, they move quietly into the meeting room to join us for worship. Their arrival is joyous for many of us and adds greatly to the worship experience. We know it can be especially hard for young children to stay perfectly still and quiet. That's OK. Their quiet whispers, giggles, hums, or toddling around are sometimes a ministry to others in the room. If an adult rises to share a message, we encourage every child to listen quietly with the rest of us.
---
Baltimore Yearly Meeting (BYM) Programs
Middle School and High School Friends have opportunities during the school year to meet youth from all over Baltimore Yearly Meeting with activities geared toward their individual age groups.
The camping program offers options each summer to meet a variety of interests for children ages nine and up.
Annual Session, is a combination of Business Meetings, workshops and other activities held each August. Programs specifically geared to the youth are offered.
Friends General Conference (FGC) Gathering
The FGC Gathering is an intergenerational/international week of activity that is held each July with Quakers, largely from North America, gathering on a college campus for workshops, worship, and other activities.
Both BYM and FGC programs play important roles in the spiritual growth of our youth and the development of their Quaker identity. We try to make these programs financially accessible to all who wish to attend.